Expertise
Compassion
Success
Lose the Weight and
Gain Back Your Life!
LAP Band Sydney – Gastric Band Surgery
Laparoscopic Adjustable Gastric Banding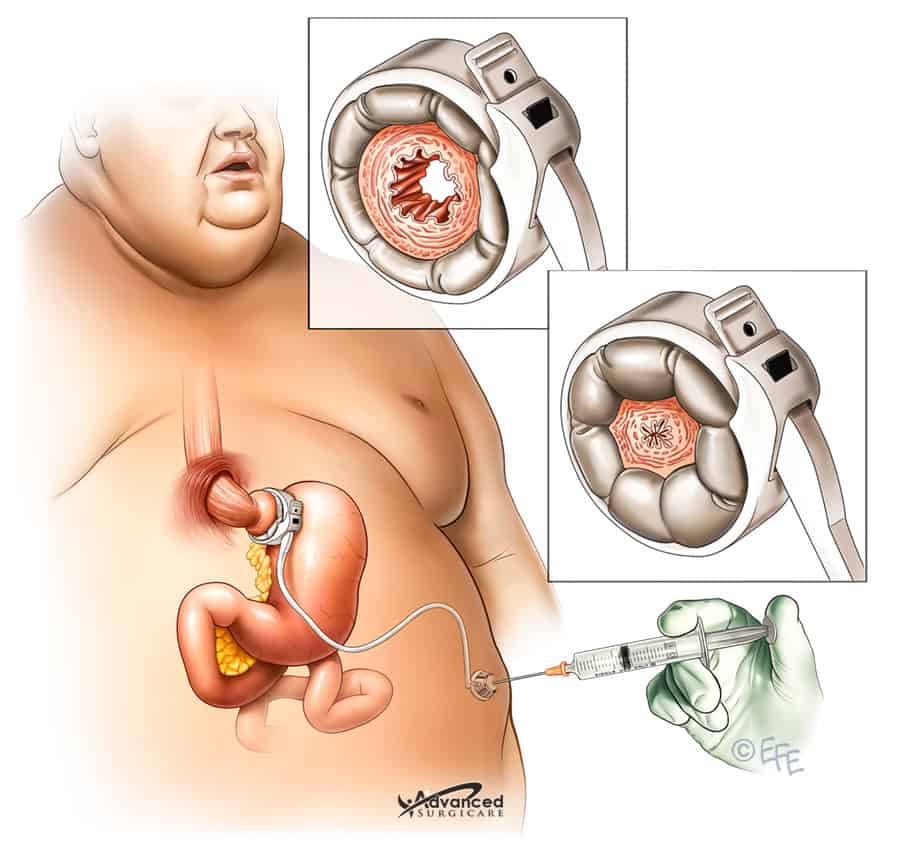 Obesity is associated with the onset of certain health conditions, including heart disease, diabetes, high blood pressure, asthma and sleep apnea, among others. Fortunately, individuals who suffer from obesity, including those experiencing obesity-related co-morbid health problems, can turn to Sydney bariatric surgeon Dr. V. Kuzinkovas for help. At Advanced Surgicare clinic, Dr. Kuzinkovas offers a range of weight loss surgery procedures, including adjustable gastric banding surgery with the Lap Band, to fit patients' unique medical needs and help them lose the excess weight.
What Is Lap Band Surgery
Lap Band Surgery is a bariatric procedure that involves the placement of an adjustable silicone band around the upper section of the stomach. The procedure, also known as laparoscopic adjustable gastric banding or simply gastric band surgery, is used to restrict food consumption to elicit weight-loss. The lap band is adjustable, so your bariatric surgeon, Dr. Kuzinkovas, will be able to loosen or tighten the band as necessary by emptying the band or by filling it with saline solution.
About The Gastric Band Procedure
Dr. Kuzinkovas has extensive experience performing bariatric surgery using the laparoscopic approach. Laparoscopic surgery is less invasive than traditional "open" surgery. With laparoscopic surgery, the weight loss surgeon makes several small incisions in the abdomen, through which he inserts his surgical instruments, including a specialized device with a lighted camera on the end of it. The camera transmits video from inside the treatment area onto a high-resolution screen in the operating room, so the surgeon can monitor the progress of surgery. Because laparoscopic surgery is less invasive than the open approach, the patient experiences less scarring and a quicker recovery.
The surgeon inserts the silicone band via one of the small incisions. He places the band around the upper part of the stomach and secures it in place with sutures. He attaches an injection port, connected via tubing, to the Lap Band and positions it onto the muscle layer of the abdominal wall. Later, Dr. Kuzinkovas can fill or empty the silicone band via the access port.
Adjusting The Lap Band
Dr. Kuzinkovas leaves the port empty immediately after surgery, while the patient recovers from the procedure. About four to six weeks after the initial procedure, the Sydney weight loss surgeon fills the band with saline solution, causing it to tighten around the stomach to restrict food intake. The surgeon adjusts the band at the Advanced Surgicare clinic every few weeks. Filling or emptying the band is easy, fast and essentially painless.
What to Expect After Gastric Band Surgery
Lap-Band surgery is a life-changing procedure, and gastric banding patients will need several weeks to recover completely. However, most patients are able to go back to work about one week after surgery. In the first two weeks after Lap-Band surgery, individuals must consume a liquid-only diet. Soon after that, they can slowly resume eating solid foods.
Following Lap Band surgery, patients will gradually lose the excess weight. During the first 12-18 months following surgery, their weight loss goal should be to lose between a half and a full  kilogram per week.
Patients should follow a healthy diet after Lap Band surgery. For individuals to lose the excess weight and subsequently maintain their ideal weight, they must eat nutritious meals and get plenty of exercise for the rest of their lives. In addition, getting psychological support from a qualified mental health professional and support groups helps keep patients on track with their weight loss goals.
Undergoing Lap Band surgery in Sydney with Dr. Kuzinkovas is an effective way to help patients lose weight, often resulting in a steady improvement in obesity-related co-morbid health conditions.
Lap Band Surgery Requirements
Lap Band Surgery is not designed for individuals who simply want to lose a few kilos. The gastric band procedure works as a tool for those who need to lose a significant amount of weight and want to keep it off permanently.
Dr. Kuzinkovas will determine if you are a suitable candidate for a weight-loss procedure such as lap band surgery on a case-by-case basis. Typical candidates for lap band surgery are individuals that:
Have a body mass index (BMI) of 40 or higher.
Have a BMI of at least 30 AND have one or more obesity-related health problems.
Are at least 16 years of age.
Are prepared to make major changes to lifestyle and eating habits.
Have unsuccessfully attempted to lose weight through non-surgical means.
Learn More About Lap Band Surgery
If you suffer from obesity and related co-morbid health concerns, it is time to start on your way to leading a healthier, more fulfilling life — today. To schedule a consultation with our premiere weight loss surgeon in Sydney, Dr. Kuzinkovas, please contact Advanced Surgicare Clinic by calling 1300 551 533.