Expertise
Compassion
Success
Lose the Weight and
Gain Back Your Life!
Sydney Gastric Sleeve Surgery
Laparoscopic Sleeve Gastrectomy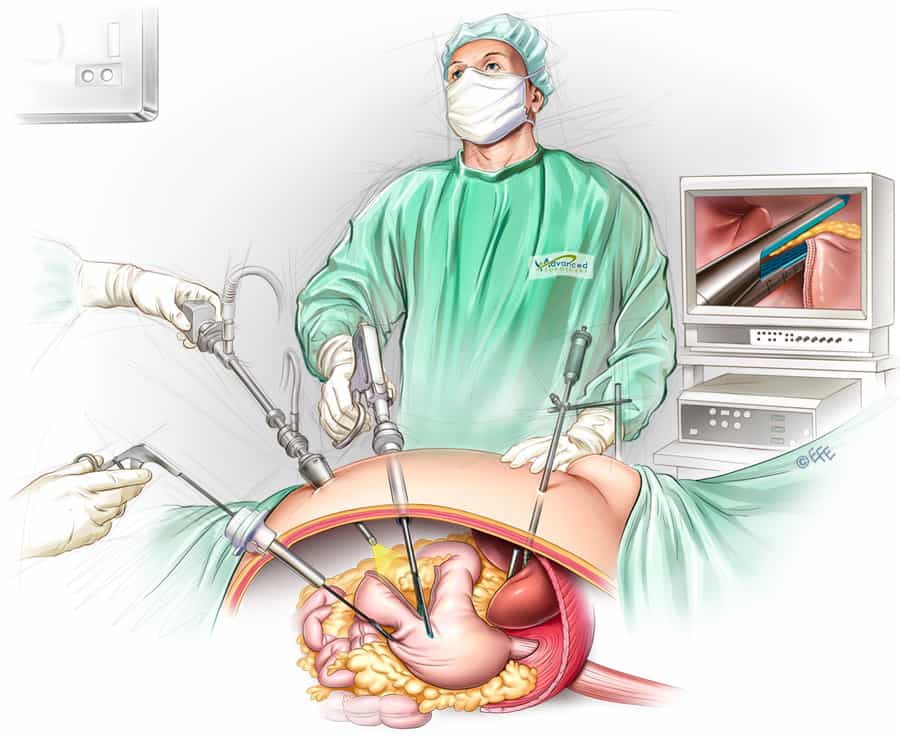 At Advanced Surgicare, Dr. V. Kuzinkovas offers sleeve gastrectomy surgery, also known as vertical sleeve gastrectomy. This advanced bariatric surgical procedure may be a suitable weight loss tool for individuals who are not appropriate candidates for other types of bariatric surgery (e.g., gastric bypass) due to specific risk factors, including a very high BMI and certain medical conditions such as anemia.
Find out more about Tube Gastrectomy with the following links.
How Gastric Sleeve Surgery Helps You Lose Weight
The gastric sleeve procedure takes a metabolic and restrictive approach to help obese patients lose weight. Our bariatric surgeon in Sydney removes most of the stomach during gastric sleeve surgery to limit food consumption, causing gradual weight loss. The procedure affects the hunger hormone, Ghrelin, decreasing its production in the stomach after surgery. With less Ghrelin, the patient's appetite is easier to control, and they experience fewer hunger sensations between meals.
The combination of reduced stomach size and altered hormone production gives patients more control over their appetite and a better chance at trading poor eating habits for a healthier diet and lifestyle.
Sleeve gastrectomy is irreversible. Patients seeking this type of bariatric surgery must commit to losing weight and maintaining a healthy body size for the rest of their lives. Dr. Kuzinkovas will discuss the procedure more during your consultation at Advanced Surgicare.
Laparoscopic Gastric Sleeve Procedure Details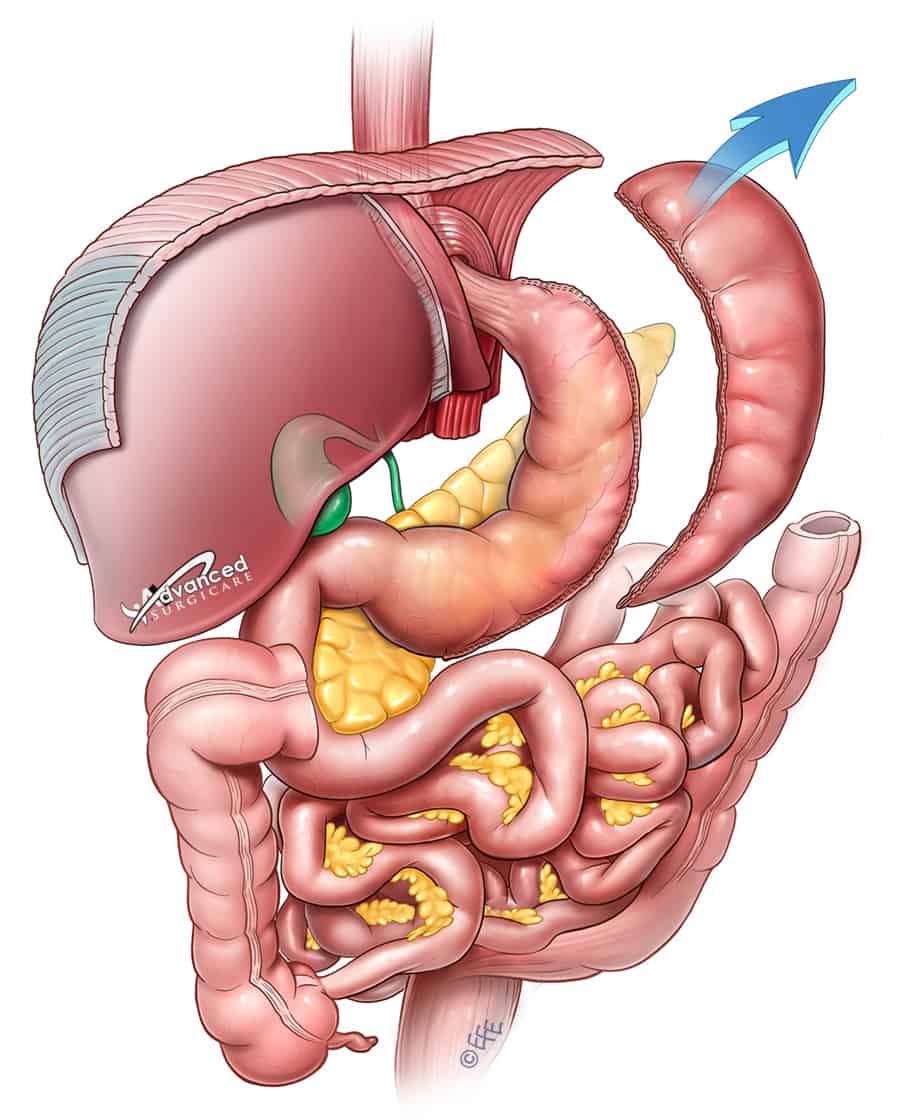 Dr V. Kuzinkovas is a gifted obesity surgeon who performs sleeve gastrectomy laparoscopically using a long surgical tool equipped with a lighted camera. He reduces the stomach size by 70% to 80% and staples the small tube with a special device. The larger stomach section is surgically removed, leaving behind a sleeve-like, cylindrical structure. Sleeve gastrectomy permanently alters the stomach, but it is possible to dilate it later in life if necessary.
The laparoscopic technique for sleeve gastrectomy is less invasive than traditional open surgery. Dr. Kuzinkovas makes several tiny incisions on the abdominal wall and inserts the laparoscope. The camera on the surgical instrument gives our Sydney bariatric surgeon a clear view of the stomach on a video monitor in the operating room. The laparoscope allows Dr. Kuzinkovas to perform sleeve gastrectomy with fewer incisions, often leading to less scarring and a faster recovery than the conventional approach.
The tube-like stomach pouch created during sleeve gastrectomy can hold 100cc to 150cc, permanently limiting food intake capacity.
Advantages of Gastric Sleeve Surgery
Gastric sleeve surgery preserves the stomach function and allows for normal digestion while still decreasing the organ's size. Other forms of bariatric surgery such as gastric bypass, which forms a new connection between the stomach and small intestine to limit calorie absorption, alter the openings in the stomach and affect the nerves. The sleeve gastrectomy procedure affects hormone production by removing a substantial portion of the stomach, and the patient experiences fewer bouts of hunger with less Ghrelin released in the organ.
Sleeve gastrectomy comes with fewer risks than other forms of weight loss surgery, such as stomach ulcers after gastric bypass and band complications after lap band surgery. The sleeve procedure does not alter the intestinal tract, reducing the risk of bypass-related complications, including anemia, intestinal obstruction, osteoporosis and protein and vitamin deficiencies.
What To Expect After Your Gastric Sleeve Operation
Dr V. Kuzinkovas will explain the recovery process and provide detailed instructions to guide you, including dietary restrictions and patterns. Slowly incorporating soft and solid foods into your diet helps the stomach heal after surgery.
Sleeve gastrectomy patients can enjoy regular foods sooner than patients who undergo more invasive weight loss surgeries, but there are still some limitations. Patients need to stick to a liquid or pureed diet for the first four weeks after sleeve gastrectomy and progress to soft foods slowly. A healthy diet with solid foods typically starts approximately six weeks after gastric sleeve surgery.
Advanced Surgicare provides a comprehensive health plan for obese patients to follow before and after bariatric surgery, including a nutritional diet and recommended exercise routine. Our team is committed to helping patients change their lifestyles, and patients must be equally invested in their future. With physical exercise and a healthy, nutritious diet, patients can expect to lose 1kg to 1.5kg per week after sleeve gastrectomy. This weight loss may slow down to .5kg to 1kg or less as the patient nears a normal body weight and has lost most of their excess kilograms.
Candidacy for Laparoscopic Sleeve Gastrectomy
Dr. Kuzinkovas is a highly trained and experienced bariatric surgeon in Sydney. He can determine if laparoscopic sleeve gastrectomy surgery is the best weight loss procedure for your health and individual needs. The ideal candidate for this bariatric surgery has a body mass index (BMI) that categorizes them as obese (30 or higher) and shows a commitment to changing their eating habits and lifestyle to reach and maintain a normal weight permanently. However, you must be a minimum of 18 years old and have tried and failed to lose excess weight with diet and exercise.
Sleeve gastrectomy may be an intermediate option for patients with a high BMI that disqualifies them from other weight loss surgeries. Some patients have medical concerns that increase the surgical risks of different procedures, such as previous abdominal surgery, anemia, and heart and lung conditions. Gastric sleeve surgery may be an option for patients who did not have success or reach optimal weight loss with lap band surgery.
Learn More About Gastric Sleeve Surgery
Sleeve gastrectomy surgery is increasing in popularity thanks to its significant restrictive and metabolic effects, helping patients achieve their healthy weight goals. To schedule an appointment with Dr. Kuzinkovas or to find out if sleeve gastrectomy is right for you, contact Advanced Surgicare Clinic by calling 1300 551 533.